Description
TV Show/Series:
The Mandalorian 2019 (Star Wars: The Mandalorian) in the Episode. 3
Character: Din Djarin
Color: As the picture shows
Size: S-XXL
Material: Hard Resin, Cotton, Fabric, PU, Hard Thermoplastics
The Soft Costume is made of Cotton and Fabric.
The bullets are made of Hard Resin.
The Hard Resin Armors are made separately based on hand models and they are removable.
We have experts who can help you confirm your costume size, please be sure to contact us by email or Facebook Message and we will do our best to help you. No refunds or exchanges will be made for garments that don't fit because you didn't confirm the costume size. Thank you for your understanding. 
Contact: info@xcoser.com
Facebook: XCOSER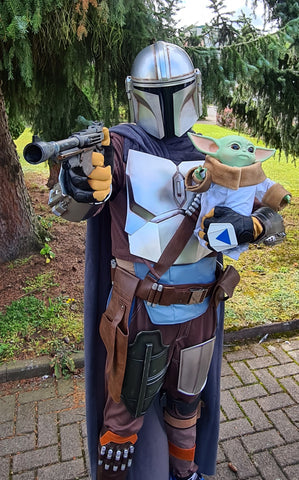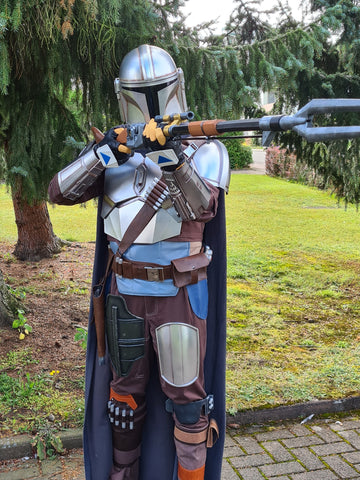 TV Description:
The Mandalorian (also known as Star Wars: The Mandalorian) is an upcoming American space Western web television series scheduled to premiere on Disney+ on November 12, 2019. Set in the Star Wars universe, the series will take place five years after the events of Return of the Jedi and follows a Mandalorian bounty hunter beyond the reaches of the New Republic.
Package Included:
Costume With Hard Resin Armors: Inner Tunic + Pants + Vest + Cape + Resin Shoulder Armors +

 

Resin 

Chest Armor +

 

Resin 

Wrist Armors +

 

Waist Armors + 

Resin 

Leg Armor + Gloves+Calf Covers
Props:

 

Belt + Strap with Resin Bullets + Holster
(Need to prepare an extra leather belt to fix the Waist Armors)
Please click the Size Chart here to choose the right size.
IF U wanna nice Mandalorian helmet for cosplay or collection please click here to see and together have -30% take-off 
Coupons: thisistheway
Please allow a slight dimension difference due to different manual measurements.
Notes:
Due to the different monitor and light effects, the actual color of the item might be slightly different from the color showed in the pictures.
Payment Methods:
We accept various payment methods from Paypal Express Checkout to Credit Card of Visa, Mastercard, American Express, Discover, JCB, Diners Club, and Union Pay.
Shipping:

We deliver orders worldwide. We offer delivery options of Free Shipping (Shipping Times of 11-22 Business Days), Standard Shipping (Shipping Times of 7-10 Business Days, Rate of $18), and Express Shipping (Shipping Times of 2-6 Business Days, Rate of $25). It normally takes 10-15 days for most costumes to finish the production.
Why order from us?
 
     



WHY ORDER FROM Xcoser?

- We have More 150+ professional Artisans
   With Full-Time Jobs in the world.
- 100% Satisfaction
- More than 600,000 Customers per year
   choice our brand "Xcoser"
- Free Shipping Worldwide * 
- 5+ Stars Customer Friendly Support + Live Chat
   plus Smile Quickly Responds
- Orders Shipping so express come your side
- 100% secure checkout process
- 100% Hand-made with Love
Size chart
Mando costume
Over all costume looks great. The ties for the amor needs to be reinforced. 2 of them snapped off. Maybe consider sowing on Velcro. The tape that holds the chest pieces together came off
Mandalorian outfit
Great product resin armor is solid and nice craftsmanship and details customer service is very helpful
Better then expected
The costume is better then expected, fits perfectly! I have received many compliments, I would definitely order from here again.
Very detailed costume, looks great. A few minor problems.
First of all, I want to say that this costume was packaged very well for international shipping. Lots of bubble wrap, everything separated so as to not damage other pieces during shipping. I bought both the costume and helmet.
Helmet: Really great looking, fits well. If you have a really large or small head you may have some issues. Visibility is not so good (a lot of blind spots), but thats just the design and not the costumes fault. Soft interior padding, and the hidden ear holes really help with hearing. I was worried it would fog up but it didn't.
Costume: The costume has a lot of layers and would be near impossible to put on without help. The armor pieces tie on with little strings, so there is no way to make adjustments. I ended up cutting off the ties and sewing on velcro patches for the leg and shoulder armor. This worked out much better and getting dressed was a lot easier and faster, and allowed me to adjust the positions of the pieces. XCoser should consider that option instead. I also had some trouble with parts of the forearm armor falling off because they weren't well attached, just from holding the pieces in my hands. Easy enough to glue back on but disappointed that was happening. The little "detonators" resin piece on the belt isn't attached in it's pocket. It fell off and broke, so consider gluing it in before trying on the costume. The resin pieces look great, very detailed and nice coloring. The leather belts match well, clothing too. The cape is well done. I will say the costume is quite warm, so if you plan on being indoors you may get too hot.
Overall, people loved the costume and I am quite happy with it. XCoser did a great job verifying my size before the purchase and had good communication. For reference, I am 5-11 and 160 lbs and ordered a Medium. I am looking forward to wearing it again.
Mando suit
They did great on turnaround time. I ordered on Oct. 6th and received the 25th, giving me a week to try it on before Halloween. The costume overall was a great success, the beskar armor is made incredibly well and sets it apart from the others. Depending on how far you want to go, you may want to make modifications to the costume before enduring long, active sessions. The tie system makes it difficult to put on by yourself, I had to pre-assemble most of the suit before putting it on. I already had the boots, blaster and a helmet (and grogu) to complete the look. The best addition to the whole cosplay was a voice amplifier under the helmet that people took convincing and made the "costume" into a real life character. Overall I'm very satisfied with the costume and of the service. I will be ordering more from Xcoser for future cosplays.
Payment & Security
Your payment information is processed securely. We do not store credit card details nor have access to your credit card information.